Religious and community leaders seeking to raise their profile should "have faith" when approaching the media with their experiences.
In an attempt to allay fears over "spin", Michelle Mayman, editor of BBC North West Tonight, told the Creating Connections event in Manchester that it was in journalists' interests to build trust.
Speaking at the conference organised by the Religion Media Centre, she said: "I would urge you to have faith in people and to develop that trust so you can tell those stories. Have faith in us."
Michelle Mayman was one of a panel of journalists invited to address the packed event at the Friends Meeting House in the city centre on Wednesday. It was the final in a series of five events aimed at enhancing religious literacy and understanding in a landscape often fraught with misconceptions and assumptions on both sides. 
Such assumptions from the assembled crowd about journalists "twisting" and "distorting" stories were what prompted Ms Mayman to respond.
While she acknowledged "there are some unscrupulous people out there" like any other sector, she stressed that regional news was all about building relationships with community groups. "If you want to get your story out there, you have to trust somebody," she said.
As in the previous four events, journalists, teachers, academics, religious representatives and other guests gathered for a packed schedule of presentations, panel discussions and workshops. The audience included the city's Muslim, Hindu, Jain, Christian and Jewish communities, among others.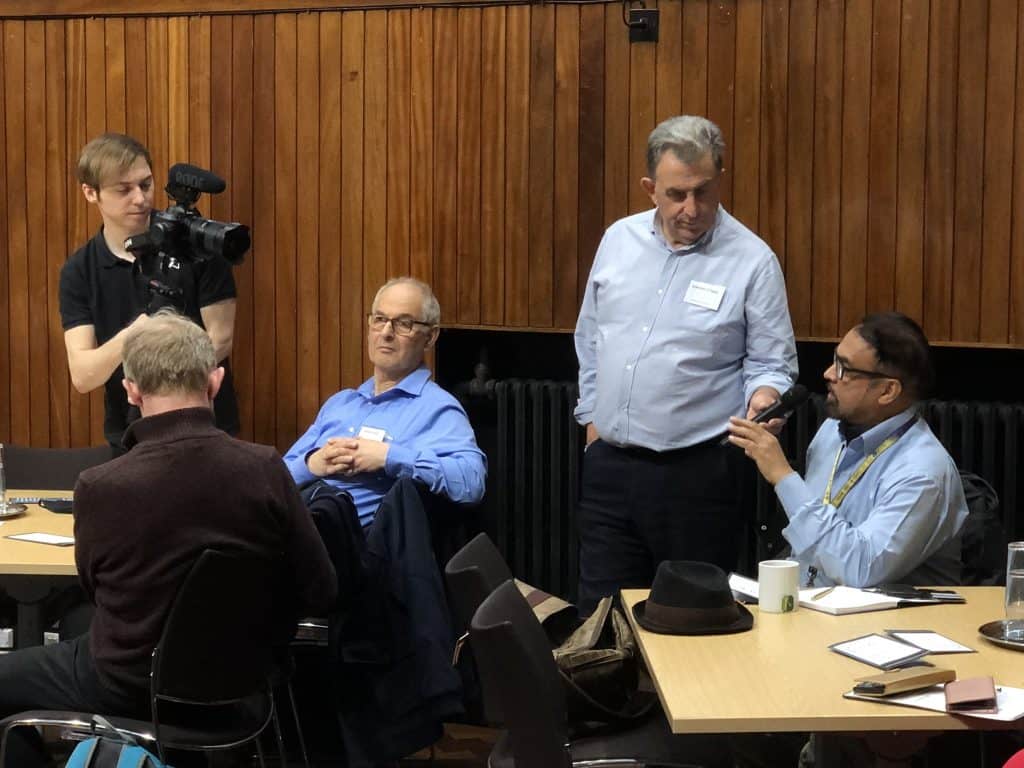 The Bishop of Manchester, David Walker, started the afternoon by stressing the importance of building strong relationships with local media.
"Local news is really, really important," he said. "It may not be a big story in Westminster but it may be a big story in Manchester — something that Manchester people want to hear about. You have some great stories to tell, so build those relationships, then the journalists will find their way to your door."
Someone who benefited from such links was Canon Jean Hurlston, who told the assembly about how a reporter from the Manchester Evening News (MEN) spent a night with her and a team of volunteers from the Oldham Street Angels.
"We had a story to tell but we actually welcomed her into our work," she said. "She used her own background to tease out the absolute benefits that we could bring. She followed us around the streets of Oldham. She saw one of our stories and saw that there was a lot more to it than we had given. They key thing is that we were acting in partnership."
Roger Bolton, the journalist, broadcaster and RMC trustee, hosted the proceedings alongside Leo Devine, former BBC head of the southwest and now journalist-in-residence at Plymouth Marjon University.
Mr Bolton introduced a panel of journalists and asked what they looked for in a story and how they might connect better with the city's diverse groups.
Interest in religious groups should not just be seasonal, said Cat Lewis, chief executive and executive producer of Nine Lives Media, which makes Songs of Praise for the BBC.
"We are always very interested in getting away from the festivals and celebrations of different religions. Anything that can go a little bit deeper is really important," she said. "Because we are on 51 weeks of the year, we have a lot of programming to fill. We are really, really, keen to build a relationship with our audience and make sure we cover stories from around the country."
Echoing that sentiment was Kate Squire, editor of BBC Radio Manchester. "We are very hungry for local stories," she said.
To highlight the BBC's commitment to faith-based content, Ms Squire played a short BBC clip her team had made about the Rev Augustine Ihm, a Didsbury vicar who has overcome both racism and homophobia in his career.
When questioned by a member of the audience who suggested the clip was indicative of "socially liberal progressive groupthink", Ms Squire said: "We have a responsibility to cover all faiths and all different points of view, whether they are palatable sometimes to some people or not."
Manchester World, aims to go beyond "live news", according to editor Jenny Simpson. She told the audience that her team aimed to focus on the "positives in Manchester". When asked for advice on how community leaders might relay a story to journalists, she said: "Tell the story as you would if I bumped into you in a café."
While anyone approaching the media should do their best to make their news accessible to journalists, it is up to the professionals to prize out the best stories, according to Yakub Qureshi, democracy editor of Reach PLC, the national and regional publisher.
"Journalists will be honest with you," he said. "If the long and the short of it is that the story isn't interesting, they will say that. But the journalist should always try to interrogate the story and find out if there's an angle that will work."
Mr Qureshi admitted traditional media such as Reach, which owns the Manchester Evening News, is "struggling to communicate with communities". "There's a challenge there," he said. "The fact that we no longer have a monopoly on the public's attention."
Someone who knows all about developments in digital media is Hussein Kesvani, journalist, podcaster and Religion Media Centre trustee, who said that "national broadcasters now have to compete with this broader content economy".
Mr Kesvani was also a facilitator in a series of workshops during the second part of the afternoon. These saw panellists sitting alongside members of the audience to discuss how religion interacts with race, poverty, LGBTQ+ equality, sport, the health service, the future for young people and climate change.
One issue raised by the discussion on the environment was how to keep stories about religion and climate change in the media post-COP26. Discussions on LGBTQ+ issues within a religious framework "must ensure that views are not polarised", the workshop felt, while another debated the role the chaplaincy can play on the health service's frontline.
In the final plenary session, speakers considered what lessons could be drawn from the day.
Eamonn O'Neal, deputy lieutenant for Greater Manchester and former managing editor of Trinity Mirror in the north of England, summed up a key theme: 'Tell the story – to engage with journalists we must tell stories and we can all be storytellers".
Andrew Graystone, an author, journalist and campaigner, outlined what he believed drove journalists. "The media are looking for what I call 'wow stories' and there are lots of them in faith communities. There are the wow stories that make you think 'that's fantastic' and others that are 'wow, that's shocking'," he said.
He urged religious groups to engage with the media on both fronts. "The media is a rufty-tufty business and people of faith sometimes bruise rather easily. You have to be prepared to engage in that, to do things fast, to be honest and real."
He added: "The local vicar and the local newspaper are the people who know your community the very best as they are closest to the ground." But engagement with the media extended beyond pitching stories.
"There may be talent in your communities," he said. "One of the ways of influencing things is to encourage young people to get themselves into this world. If you want to be better represented and better understood, I can't think of a better way than to have people working from the ground up."