By Christopher Lamb
An enormous prayer monument, which has received planning permission to be built on the outskirts of Birmingham, will be exclusively Christian, according to organisers.
The Eternal Wall of Answered Prayer is to be constructed out of one million bricks at the cost of £9.35 million, with each brick representing a prayer from an individual and its outcome.
Richard Gamble, the project's chief executive and a former chaplain to Leicester City Football Club, told the Religion Media Centre that the prayer wall would be unashamedly Christian and would not include prayers from other faiths.
Asked whether his project had received support from other faith groups, and if "their prayers count", he replied: "We are pretty unashamed that this is a Christian landmark. Now, I think there are sensitivities around that, for which we need to be wise. At the end of the day, this is a piece of public art, and the purpose is to provoke a conversation about prayer."
During the Religion Media Centre's regular Zoom webinar for journalists, Mr Gamble explained: "All I'm doing is presenting a piece of art which contains prayers that are of a Christian nature."
The Eternal Wall of Answered Prayer will be 51 metres high and 80 metres wide and has been designed in the shape of an infinity loop known as a Möbius strip. Once constructed, it will be more than double the height of Antony Gormley's Angel of the North sculpture in Gateshead, northeast England.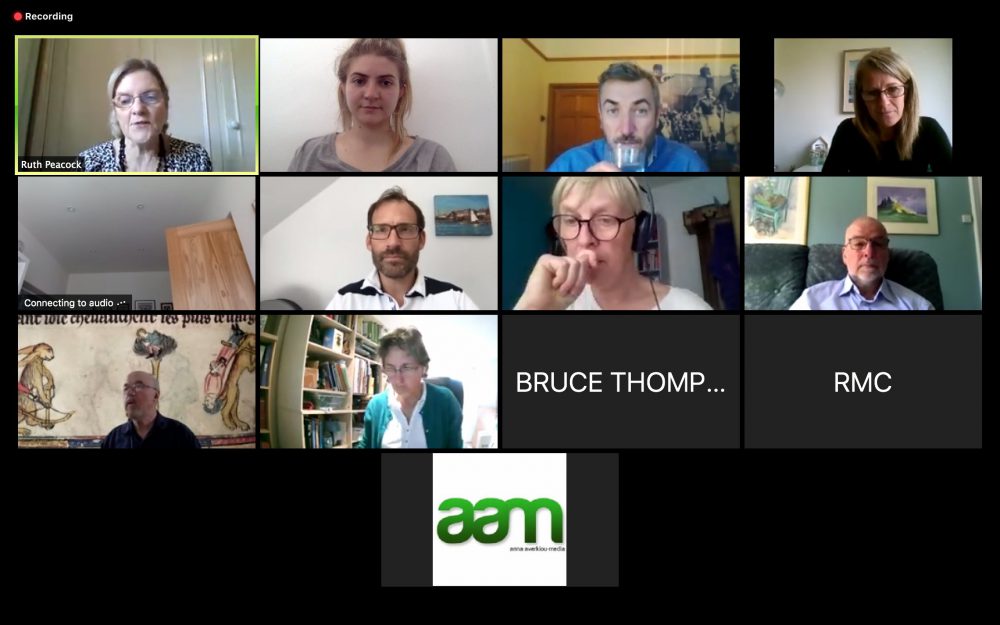 It will be built near Coleshill, just off the M6 motorway and in a religiously diverse part of the UK. The project has just received planning permission from North Warwickshire borough council and building work is due to start next year. Robert Jenrick, the communities secretary, recently granted final approval for the project.
The Department for Communities, Housing and Local Government was asked if it was comfortable with the prayer wall having an exclusively Christian focus.
A spokesman replied saying that the borough council had granted planning consent and the case had not been "called in". He explained: "The power to call in a case is used only very selectively. The government believes planning decisions should be made at the local level wherever possible, as is the situation here."
The wall was designed by Snug Architects after a competition run by the Royal Institute of British Architects and it is expected that, after completion, at least 500,000 people will travel past the monument each week.
Visitors to the site will be able to access the stories of the answered prayers through their phones, and chaplains will be on hand to answer questions.
Qari Asim, senior imam at Leeds Mosque, told the Religion Media Centre that it was good news such a prayer monument was being constructed, but he felt it would be a "huge missed opportunity" if the monument did not include other faiths.
Given that Birmingham was one of the most multi-faith, multi-ethnic cities, Mr Asim said the eternal wall gave "an opportunity to include other faith communities in our answered prayers".
He said he respected that the project had a Christian vision and was not suggesting that each religion be given equal space on the wall. He pointed out, however, that the Abrahamic faiths — Judaism, Islam and Christianity — all worshipped the same God.
"It's a good thing that we have this eternal wall of prayer, given that we have seen the power of prayer during the pandemic, and people connecting to spirituality more than ever before. This will give people hope," Imam Asim said.
"We are a multi-faith, multi-belief country, and we are proud of that fact. There is a good level of understanding and increasingly growing relationship between faith groups, which was seen through the pandemic when different faiths worked together. As a result, I find it difficult to understand why faith communities would be excluded from the act of prayer when this extraordinary physical symbol of prayer is being put up."
Mr Gamble explained that the idea for the project came about 16 years ago when he felt God had spoken to him and gave him the vision for the project.
The Eternal Wall of Answered Prayer will, Mr Gamble said, include an exhibition to demonstrate what other faith traditions believed and that he was not making a "value judgment" about other faiths. He stressed that the wall was a piece of art, aimed at starting a conversation about prayer and that non-Christian religious leaders had been encouraging of the project.
"We live in an incredibly secularised society, where faith issues often get pushed aside, or people get pushed into one approach of 'well it needs to be multi-faith so that we don't offend anybody'. But actually, all the faiths want the freedom to express their faith how they see fit," he said.
"If another faith decided to build something that expresses an element of their faith, would I oppose that? No, that's great, let's have the conversation. I'm not going to apologise for being a Christian, and I'm not going to apologise for wanting to share what I believe and what many hundreds of thousands of Christians believe in this country."
Mr Gamble is a member of the Chroma Church, an independent charismatic Christian community based in Leicester. He stressed that he wanted the prayer wall to include all Christian traditions, and to emphasise God's action in people's lives.
"I think one of the things we are losing is the stories of what God has done," he said. "Kings of England have called on this nation to pray 15 times . . . in 1940 the churches opened their doors to celebrate God answering prayers during the Second World War. That is, I believe, being etched away from our history, and secularised."
Mr Gamble's team is working hard to find the one million stories of answered prayers from across the world. Michelle Heritage, head of answered prayers, who took part in the Religion Media Centre discussion, said they had amassed 24,602 prayer case studies so far.
These included people who prayed to be rescued from a dangerous situation, a child struggling to sleep and an 82-year-old woman who lost her hearing aid.
Mr Gamble said he hoped that each brick would have a "story of hope" although some of the stories would detail painful experiences.
During the Zoom discussion, the Rev Bruce Thompson, chairman of the Lincolnshire Methodist District, said compiling one million examples of answered prayers would take a lot of work.
"If five minutes' thought is given to each prayer, that is around 10 years' work non-stop, 24 hours a day. It will require a big scrutiny team," he said.