In October and November 2021, the Religion Media Centre delivered an innovative project to bring together local journalists, representatives from religious groups, religious education teachers, academics and civic leaders in five English cities.
About 300 people attended the events in Leeds, Plymouth, Nottingham, Birmingham and Manchester. They were organised by the RMC with local steering groups of journalists, religious organisations, academics, teachers and councils.
The intention was to raise understanding between religious groups and the media, exploring new stories, breaking down misunderstanding and showcasing the expertise of RE teachers and academics from local universities, who are plugged into local religious networks in a unique way.
Media panels in each city and subsequent question and answer sessions showed that relationships between religious individuals or organisations with the media are often nonexistent outside large denominations with funds for public relations advice. Several attendees admitted that they had never met a journalist before.

Causes of media-religion relationship breakdown
Reasons for the failure to connect were offered in each place. In Plymouth, the audience was told by one representative that they were aware of friends and colleagues who would not contact the media for fear that they would suffer a violent backlash on social media for different or challenging views.
Patrick McKinney, the Catholic Bishop of Nottingham, told the room that journalists made him feel nervous and uncomfortable if, in an interview, they led him down a road that he didn't want to travel.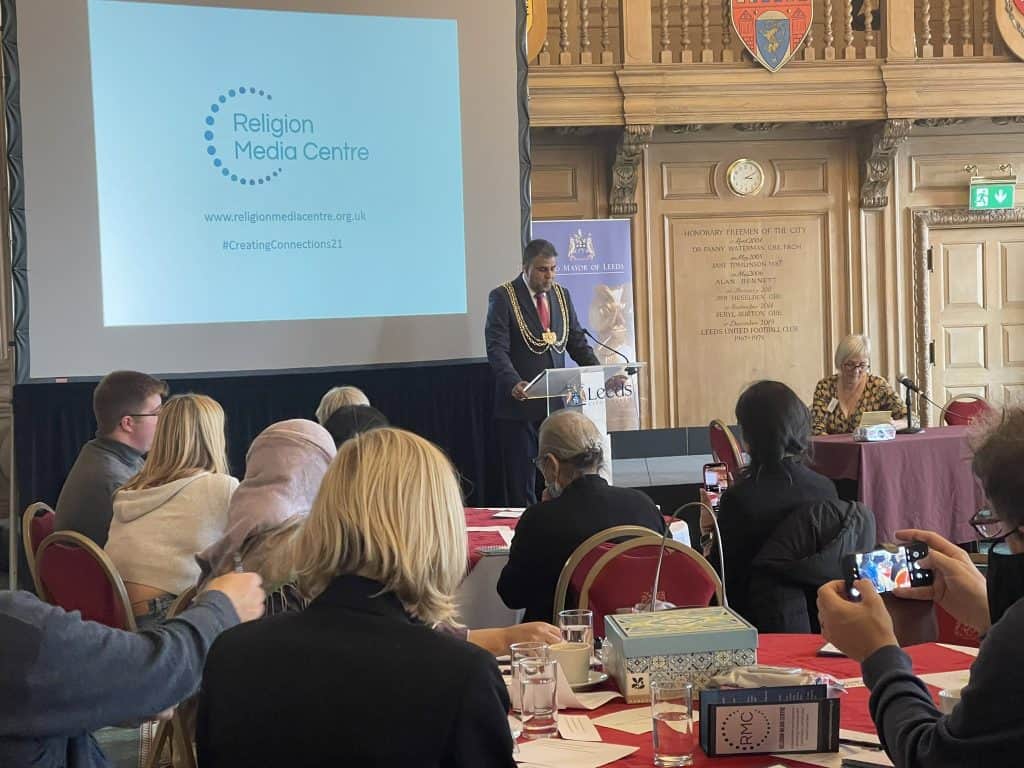 Musharraf Hussain, from the Karimia Institute in Nottingham, expressed a common frustration among Muslims about negative depictions of Islam in the media. And in Birmingham, Dr Muhammad Hanif, a GP in the city and a trustee at Unity FM, a Muslim community radio station, said they were accustomed to negative stories about terrorism, observing that the people who represented the Muslim community "aren't necessarily the ones who stand up".
Ashvin Patel, chairman of the Hindu Forum (Walsall and West Midlands), told the meeting that scripture instructed them not to expect any returns for community work and helping neighbours. They were almost forbidden to talk about it.
Andrew Graystone, speaking in Manchester, said the media could be a rough business and people of faith were sometimes bruised rather easily. Yet the local vicar and the local newspaper were the people who knew the community the best.
But the 300 people who attended the five events were there to explain and address their misgivings, listen to the media explaining their job and then understand how to make the relationship work.

Have faith in the media
Michelle Mayman, editor of BBC North West Tonight, told the Manchester event that it was in journalists' interests to build trust.
Answering criticism that the media twisted and distorted stories, she acknowledged "there are some unscrupulous people out there" like any other sector, but she stressed that regional news was all about building relationships with community groups. "If you want to get your story out there, you have to trust somebody," she said. "I would urge you to have faith in people and to develop that trust so you can tell those stories. Have faith in us."
She was a part of a media panel, a feature in every city that included ITV regional news editors for diversity and inclusion, BBC news and managing editors, BBC local radio religious programme producers, editors and journalists from regional media groups and journalists turned PR professionals.
It became clear that reporting communities was a major ambition for all local media organisations. For example, the National Council for the Training of Journalists is managing a £6m community news project, providing 100 community reporters based with nine media groups, funded by Meta (formerly Facebook).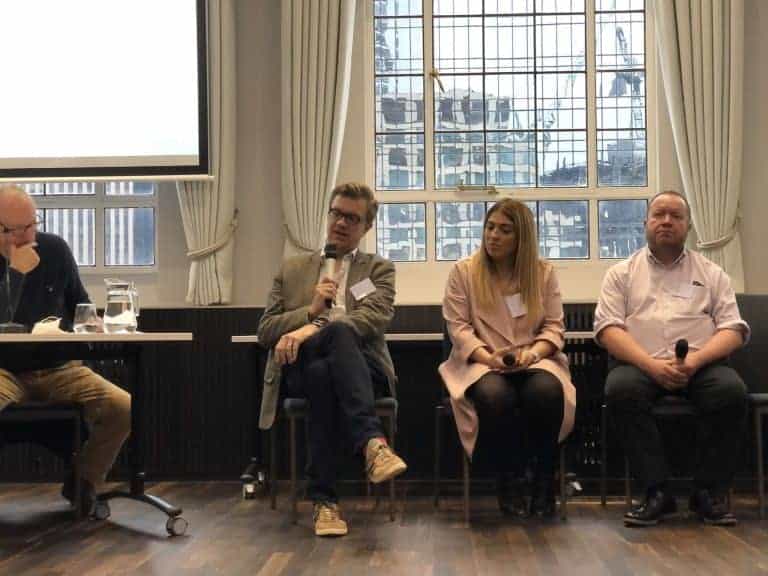 Christina Savvas, Senior Customer Editor of the West Midlands for Birmingham Live, said she was passionate about her job and "the people that make this community tick".
Laura Collins, editor of the Yorkshire Evening Post, spoke in Leeds of the "vital" work in reporting communities, especially during the pandemic when "locked-in reporters" had to find new ways of finding out what was going on and this meant they had connected with communities more than ever before. "It's really important for us as a local paper to make sure that we are out there and we are representing them and we are reflecting the voices of our city," she said.
In every city, journalists said they were looking for more stories, that they were "an open door" and people just had to contact them. Sarah Chapman, deputy managing editor of Reach Midlands, speaking in Nottingham, summarised their common response: that journalists were looking for stories about people and the content online was infinite.
Gary Newby, News Editor of ITV Central, took away that there was a "wealth of stories out there" and although there were some terrible tragedies, the best kind of stories gave the audience some kind of hope at the end.
There were practical tips for people not used to pitching stories to the media. The journalists explained that their inboxes overflowed, which might explain poor response to emails, but they urged people to get to know the local reporters and then phone them with stories as well as emailing.
What's the story?
The events were designed to bring stories to the media from groups and individuals whose religion motivated their contribution to society. There were about 100 speakers in the five cities, addressing common themes, for example, climate, race and justice, mental health and young people, help for vulnerable people in poverty and the faith imperative behind those who work on the front line of the health service.
The aim was that local media would go away with a notebook full of new contacts and stories. Our evaluation survey suggested that 95 per cent of the journalists present believed it had improved their view of religion. They valued the opportunity to find new contacts, hear different stories and understand better the society in which they worked. Some of these key local stories that were shared included:
Shaun Sawyer, the chief constable of Devon and Cornwall, believing the police must regard faith as relevant in the way they do their job in order to own their legitimacy "which is the "heartbeat of policing"

Professor Mahendra Patel, a Hindu pharmacist, explaining the importance of understanding beliefs, faiths and religions to deliver healthcare and education especially during a pandemic

Dr Mohammed Sattar, a Muslim GP who specialises in end-of-life care, on the importance of understanding faith as people approach the end of life, for the patient and their family

A study from Nottingham Trent University identifying the city's arboretum as one of the city's most sacred spaces

Pupils from Kings Norton Girls' School in Selly Oak, Birmingham, explaining they want to hear a range of voices and stories about hope — but warning that they get their news from social media, not broadcast or print titles

First-hand stories of a Manchester chaplain's role on the health service's frontline
Religion in the public square
Each city event included religious education teachers and academics from the city's universities. This project was funded by Culham St Gabriel's, a trust concerned with excellence in religious education.
The media share similar approaches on religion with academics and RE teachers. All are engaged in reflecting religion in the public square, observing stories and trends and understanding beliefs. But whereas religion reported in the media tends to be about organisations, stories of lived religion and traditions, the approach of teachers and academics to religion expands into philosophy and worldviews. In news reports, worldviews are implicit but not always analysed.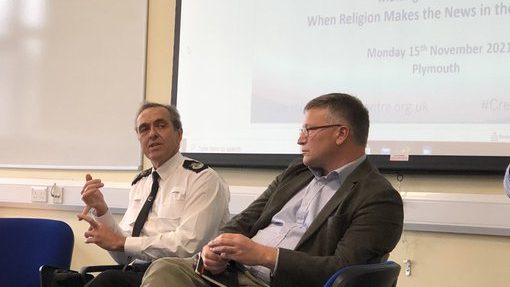 RE teachers were members of steering groups, keen to offer insights and share their knowledge of local religious organisations and unique network of contacts, introducing new communicators to the media.
Some made presentations on the religious landscape of their area, based on the 2011 Census results. This information is well known by RE teachers, as local curriculums are shaped by it. But it was new territory for many who attended, with the media saying afterwards that it was very informative and some information on particular faith groups, was entirely new to them.
There were some extraordinary takeaways — Birmingham is a "very religious city" where more than 70 per cent of the population claim adherence to a religion, and where "every religion and every bit of every religion can be found". Totnes has a large population of Pagans. Leeds is the UK capital of the Star Wars-inspired Jediism religion, identified in the 2011 Census.
The census showed the UK population to be 59 per cent Christian, 25 per cent no religion and the rest other world religions or not stated. A common prediction among the presenters was that the 2021 Census — the results will be known in March 2022 — would indicate Christianity continuing to decline, while non-religion would grow and other faiths would stay more or less the same.
Grace Davie, professor of sociology at Exeter University, who spoke at the Plymouth event, explained that despite the rise of secularisation, other changes in society had made religion increasingly present in public debate.
"None of us doubts that secularisation is growing steadily across the country, in Britain and indeed across Europe," she said. "But equally clear, is the fact that pluralism is growing, and diversity is growing as the result of immigration … If secularisation is a leading to the diminution of discussion about religion, religious diversity is doing exactly the opposite, because religion is increasingly present in public debate …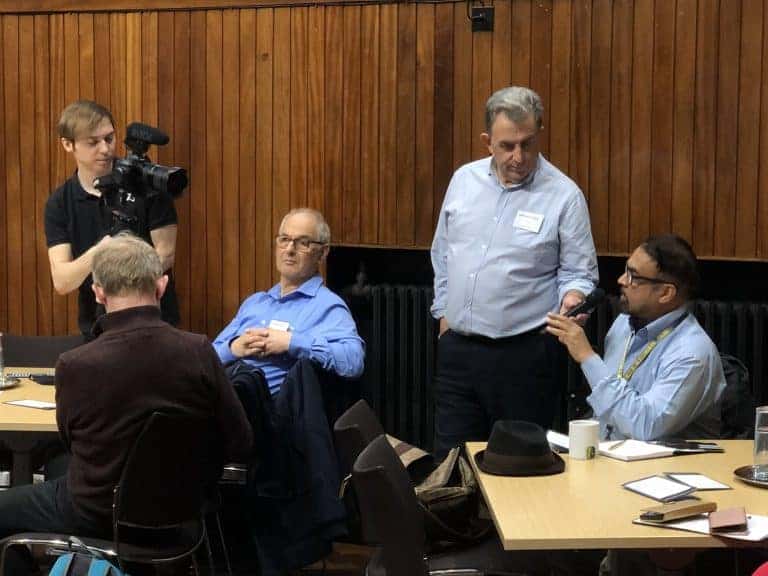 "This brings with it quite often some very sharp reactions, and strong assertions of secularism. And this is not an easy combination to manage. Today, we have at the extremes, atheists and theists. And they do articulate and talk quite loudly, but they remain a minority. Then [there are] people who are agnostic or keep an open mind, believe in unseen forces and powers, or God and gods.
"So, if you think of religious belief, and practise as a spectrum, rather than a typology, you get your small minorities, each end who have strong convictions, and almost every shade of grey in between."

Evaluation
After each event, we asked attendees to fill out questionnaires and comment on its value and what could be changed. Of those who attended, 46% filled out the evaluation.
Statistics from all five cities collated suggest:
97% said it improved their confidence in approaching the media
92% said it improved their view of the media
87% said it improved their view of religion — among the media, the score was 95%
86% of the RE teachers, academics and members of the SACRE's (Standing Advisory Council on Religious Education) said the event had improved their idea of the media; 61% said it improved their confidence in approaching the media, with 38 % replying "maybe" to this question
41% of attendees and 32% of speakers were from ethnic minorities
After all of the Creating Connections events of 2021, we held an online forum on the 14th December for everyone who had helped set up the meetings locally. The overarching response from this and the evaluation documents was that the events were just the start of enhanced relationships between all concerned and should be built upon and extended.
Amrick Singh Ubhi, director of the Sikh faith Nishkam Centre in Birmingham, said the future must be about trust and relationships and the event was a new beginning from which to build bridges.
Initial ideas include holding a similar event in two years' time, holding online media training sessions which the RMC will run, and offering ad hoc PR advice to religious groups represented at the meetings.
The participants wanted more time to talk to the media and engage with new contacts from faith communities, where they found a common interest and cause. We are willing to continue the engagement and will work towards the ambition set for us.
All Inquiries to: [email protected] | 0203-970-0709