The global movement for the freedom of religion or belief started as an initiative in the US presidency of Bill Clinton, but it has widened now to include all manner of civic society groups and religious organisations, brought together at large international gatherings.
The next International Ministerial conference on the Freedom of Religion or Belief, is to be held in London between the 5th & 6th of July 2022. It has attracted 600 delegates from 60 countries to the sessions and 300 people from community and campaigning groups, academia, the legal profession and faith organisations to a parallel fringe programme.
Fiona Bruce, the UK government special envoy for the freedom of religion or belief and MP for Congleton in Cheshire, told a Religion Media Centre briefing that this was a very high priority for the government, which saw these liberties as vital for a secure and peaceful world.
This is the fourth such conference, the first in the UK, which is hosting the event in its role chairing the International Religious Freedom or Belief Alliance of 36 countries.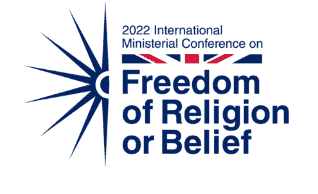 Knox Thames, who organised the first two conferences in the United States, said they began in 2018 in response to a "pandemic of persecution", with increasing limitations on the free practice of faith and data suggesting almost three out of every four people in the world lived with restrictions introduced by the state.
The causes they responded to, when the conferences began, were headlines from China, Pakistan, India, Afghanistan and Russia. The vision was to bring together countries and communities across religious, geographic and political lines, committed to a common effort.
One early success was in the freedom secured for Asia Bibi, a Christian charged with blasphemy in Pakistan, who spent eight years on death row until a global campaign forced her freedom in 2018. Mr Thames worked on that case and said the deciding moment was when a network of nations, forged through the conferences, spoke in one voice to Pakistan, allowing her release.
The ambition of the conferences is to talk, to promote dialogue, allowing free conversation to move towards change.
The conference agenda includes sessions on encouraging young people to take up the cause; cultural heritage; preventing atrocities; promoting freedom of religion or belief in the media; the particular issues for women and girls; or inter-religious dialogue.
But at the briefing, there were questions on how governments should act when violations occur. Fiona Bruce was asked whether the government was considering trade sanctions against countries such as India, or even criticising countries in public.
She said the conference was trying to focus on themes rather than point the finger at individual countries. But the UK government was constantly looking at where it could properly apply sanctions, including action against individuals guilty of violations. She agreed that China was uppermost in her mind.
Knox Thames reiterated that alongside the advocacy, continued pressure was needed on governments to act. "If all our nations just talk about it, and don't act, it kills our credibility, it undermines deterrence, and it sells out the victims who are going to be left in these horrible situations," he said.
It was hard, he added, for civil servants to convince ministers to pull back on a trade deal, add a clause on a military equipment support programme, or potentially offend a visiting head of state. "But that's what we need to be insisting upon. Because we know if we ignore these challenges, that persecution is allowed to continue, stability is going to erode, human rights abuses will continue and refugee flows will increase."
Professor Jocelyn Cesari, senior fellow at Berkley Centre for Religion Peace and World Affairs, said there were two types of religious discrimination. One was initiated by the state, such as restricting religious practices. The other was from the interaction of groups in society.
What concerned her was the rise of governmental discrimination against all religious groups — including repression or control, for example in India and among Buddhist states — but extending to eradication, for example the Muslim Uyghurs in China. She was not sure that a ministerial conference would pay attention to governmental discrimination.
She pointed out that when President Clinton's International Religious Freedom Act was passed in 1998, an understanding developed that the beneficiaries of the policy were Christian groups, some of whom used it as a political tool. But since then, although religious groups are probably more active than others, the movement had become global.
Andrew Copson, chief executive of Humanists UK, was concerned about the "rising tide of persecution" where states used blasphemy laws against people of another religion or no religion, for example in Pakistan where humanists and Christians were targeted. This, for him, was one of the key themes in freedom of religion or belief today,
He said there was already unity emerging with those against Christian persecution working with secular human rights non-governmental organisations.
However, the briefing was told there was a third strand emerging — interfaith representation. Josh Cass, who works with a wide range of interfaith groups, said inter-religious dialogue had been marginalised from the freedom of religion or belief (FoRB) space.
He said the conference was the opportunity to "stress test" the proposition that inter-religious and interfaith dialogue had a role to play in the promotion and protection of freedom of religion or belief.
One way of promoting this was in schools, where high-quality religious education would enable young people to understand the complexity of faith, helping to expel the worst forms of religious persecution. Fiona Bruce agreed and spoke of a project to create young ambassadors for the freedom of religion around the world.
Josh Cass believed that greater religious understanding and literacy in governments would give them more confidence to identify and resolve issues that intertwined, when freedom of religion or belief met freedoms concerning gender, jobs, justice or education. He thought there was a gap in knowledge which needed to be bridged. Fiona Bruce agreed and said diplomats now had access to "toolkits" of information on religion.
The heart of the international conference was the engagement of civil society, according to Mervyn Thomas, chairman of the UK Freedom of Religion or Belief Forum, which has overseen the fringe. The diverse events were proof that the FoRB movement, though initiated and driven by Christians, had expanded: "It certainly has widened out. The UK Forum is made up of organisations and groups of people from all faith groups and none," he said.
View the briefing on our YouTube channel below: