Covid-19 transforming worship and communities … faith groups reaching vulnerable people on the front line … moral judgments on refugees … climate change … sex abuse … assisted dying … racism.
These were the some of the themes of news about religion in 2021 which were discussed at the last Religion Media Centre briefing of the year. (See entire briefing recording here >>)
But were the considerable number of religion stories eclipsed by Boris Johnson revealing himself as the first Catholic prime minister since the Reformation? The question was posed by the journalist Christopher Lamb, who described this as one of the impactful Catholic stories of the year.
Another journalist, Catherine Pepinster, thought people were flabbergasted that Mr Johnson had married in Westminster Cathedral and showed commitment to the faith. "No doubt we should all rejoice that Boris has rediscovered his Catholic roots," she said, adding that his faith appeared to be growing, since he was seen receiving communion at the late MP Sir David Amess's funeral, also held in the cathedral.
But many Catholics are known to be annoyed, including those who had tried to get their early marriages annulled so they could marry again. Canon law had favoured Boris Johnson's situation. "Boris has a certain reputation … but God works in mysterious ways. And here we have a prime minister who refound God through what some people might call adultery," she said.
Asked whether his new association with the Catholic church should lead bishops to challenge him on morality, or ability to tell the truth, commentator Andrew Graystone said there was "an anxiety about finger-wagging" and a certain reticence these days. People viewed the church as "tainted goods", after its recent history of dealing with clergy sex abuse.
John McManus, now head of media and communications at Jesuits in Britain, said the church was right to stay away from moralising about politicians' private lives, as this harms its ability to talk on wider issues such as the migrant crisis, poverty or Covid-19 restrictions on places of worship.
There were other stories of note from the Catholic Church in 2021, including Pope Francis's reform of church organisation to introduce a "synod" consultative process; an unprecedented fraud trial at the Vatican involving a senior cardinal; and papal visits to Iraq and Greece where the plight of migrants was raised.
John McManus reminded the briefing of the Pope's "showbiz" ability to get profound messages relayed around the world. On his visit to Greece, where he met migrants, he won headlines after observing that in Europe, people were scared of migrants and never looked them in the eye.
The migrant crisis has exercised many faith traditions this year. Dr Azim Ahmed, deputy director of the Centre for the Study of Islam in the UK, said the Borders and Nationality Bill, recently passed by parliament, was a matter of great concern to Muslim communities. 
He said it meant anyone with another passport or nationality now stood at risk of being stripped of British citizenship. This had led to insecurity among many communities including those from south Asia, reminding him of his parents always having a suitcase ready and money saved in case they were forced to leave.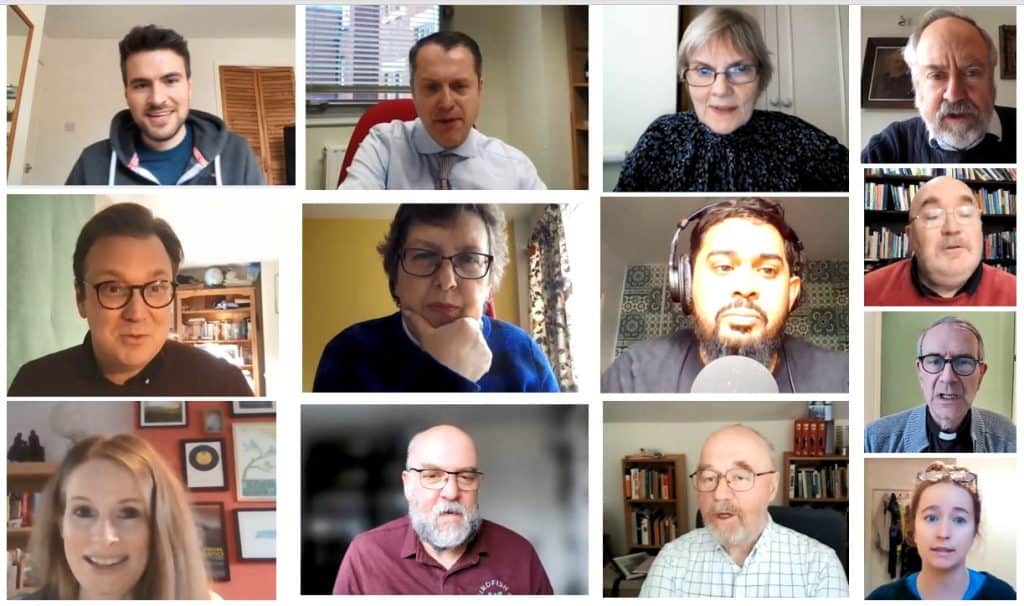 The place of faith groups in society and their social value was also discussed, with Catherine Pepinster reminding people of the way the government had come to understand the importance of working with faith groups to reach the vulnerable. There was a realisation that faith organisations spread to the grass roots of society.  There had been a suggestion early in 2021 that the government was about to announce that a new faith department should be set up, but this had not happened.
However, there had been continuous contacts between the government and faith groups at a national level, over Covid-19 and its impact on worship, community activities and social projects.
Internal stories from faith groups, and their response to things that have gone wrong, have continued to create headlines.
Madeleine Davies, senior writer at the Church Times, was asked about the row in the Church of England between evangelicals wanting to plant new church groups and church members wanting to defend the parish and the role of the clergy. 
The row hit an inflammatory note in July, when Canon John McGinley, who runs Myriad, the CofE's church planting initiative, outlined a vision for 10,000 new churches led by lay people:
"Lay-led churches release the church from key limiting factors. When you don't need a building and a stipend and long, costly college-based training for every leader of a church … then actually we can release new people to lead and new churches to form. It also releases the discipleship of people. In church-planting, there are no passengers," he said.
This quote of the year fuelled the setting up of the Save the Parish campaign, robustly defending the Church of England's tradition that the parish is the heart of the church. (Watch our briefing on Church Buildings here >>)
Madeleine Davies explained there had been a lot of reassurance that it was not the intention to undermine the traditional bedrock of the CofE. She said decline in church attendance and financial pressures cutting the number of clergy had been going on for decades.
There was pressure on the church commissioners to release some of their £9bn investment fund to subsidise parish ministry. And there was push back from parishes seeking similar cuts from the church's central HQ and dioceses.  
Church attendance has become even more of an issue after Covid, according to Dr Peter Phillips, head of digital theology at Premier Media, who said numbers were down by a third as some people have chosen to remain worshipping online, while another third have drifted away. Baptist congregations were, however, doing well at the moment, he added.
There was also interesting research to indicate that millennials and Generation Z (born between 1981 and 2010) are more likely to go online for their religious expression and connect with their community.
Dr Phillips warned that one of the lessons learned this year was the burnout affecting clergy, who have had more pastoral work and higher workloads with hybrid services, so that now "there is nothing left in the tank".
But he said discipleship was the key winner from the lockdown, with more people engaging in online prayer and Bible study.
Dr Ahmed agreed that the digital turn among faiths at the start of the pandemic had been good for some — but not, he said, for mosques. There was something about the physical space for worship in Islam that could not be replicated online. However, one positive outcome was co-ordination between mosques which had otherwise acted independently, together with engagement with regional and local authorities. 
In a whistlestop account of the main stories among Muslims in the UK on 2021, Dr Ahmed said the year was bookended by the election of Zara Mohammed, a young Scottish Muslim leader, as the Secretary General of the Muslim Council of Britain in January (see our interview with here here >>); and the racist anti-Muslim abuse suffered by the Yorkshire cricketer Azeem Rafiq, who gave evidence to a Common select committee in November.
The year could be characterised as the acceptance of a demographic shift, with young Muslims coming into the public sphere and achieving national recognition. This was also the year when the Quilliam Foundation was dissolved and a Muslim, Anas Sarwar, was elected as the leader of the Labour Party in Scotland.
Rabbi Dr Jonathan Romain, from Maidenhead synagogue, spoke of the slow shift of opinion towards the acceptance of assisted dying, even though all religious hierarchies had pronounced "thou shalt not" when a bill to allow it came before the Lords.  The year saw a new religious alliance in favour of assisted dying and he would not be surprised if the measure became law within the next decade
Andrew Graystone, who campaigns for victims of sexual abuse within the church, was certain that 2021 did not mark a turning point in the church's approach to safeguarding. He said the CofE had created "an enormous mess at the centre with endless deputy directors…on enormous salaries". He said the organisation needed to "get a grip" and what was preventing progress was the fact that abuse had not been grasped as a theological issue.
Aa churches continued to address racism, Lord Boateng was appointed to chair the Archbishops' Racial Justice Commission, following the sudden death of the Rev Dr Joel Edwards in June.  The Archbishop of York, Stephen Cottrell, said racism in the church must be confronted.
Chine McDonald, head of community fundraising and public engagement at Christian Aid and author of God Is Not a White Man, starts her new job as director of the think tank Theos next month. In another major appointment, Bishop Mike Royal becomes the new general secretary of Churches Together in England.
What is there to watch out for in 2022?  Tune in to our first media briefing of the new year on Tuesday 4 January at 1200, when we will look ahead.
Watch the entire briefing on our YouTube channel below: